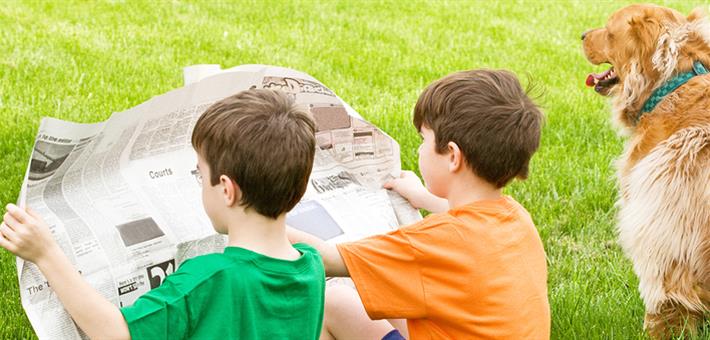 How to Make Negative News Appropriate for Children? Use Constructive Journalism!
Keywords: intervention, kids, reading, Western Europe, media, news consumption,
Sad to say, the news is predominantly negative. According to critics, this is especially harmful for children as they may end up being anxious and having nightmares. Earlier research showed that constructive journalism, an approach in which negative news stories are brought in a more positive and solution-based way, offers a possible solution to this problem in the context of TV news. A study in the Journal of Communication shows that constructive journalism is also promising in newspaper articles for children.
Take aways
Constructive news, which involves presenting negative news stories in a more positive and solution-based way, leads to less negative and more positive emotional responses in children.
Reading a constructive newspaper article inspires children to actively think of ideas that they could organize to help out with the problem described in the news article.
For journalists and news organizations constructive journalism could be a promising tool to make negative news less harmful for children. 
Study information
The question?

Does constructive reporting about negative events in newspaper articles improve children's emotional responses and encourage engagement with the events reported in the news article?

Who?

332 children aged between 8 and 13 years (mean age = 10 years old, 53% were girls). The majority (96%) was born in the Netherlands.

Where?

The Netherlands, Europe

How?

Children read either constructive or non-constructive versions of news article about a white rhino that was on the brink of extinction and about gun violence. The constructive articles contained solution-based and more positive information and the non-constructive articles more negative problem-based information, which was comparable to the general news style.

Both before and after reading the news article, the researchers measured the negative emotions of the children by asking how angry, mad, sad, sorrowful, scared, and anxious they felt. Their positive emotions were measured as well by asking how happy and joyful they felt.

After reading the article the children answered questions regarding their engagement with the story. The researchers measured children's intention to engage (e.g., would you read more stories about the topic?, Would you tell others about the story? or Would you donate money to a charity organization?). Besides that they also asked whether the kids were able to come up with school projects to raise money for the animals/gun control (inspiration for engagement).
Facts and findings
The children who read the constructive article experienced less negative and a lower decrease in positive emotions after reading the article than the children who read the non-constructive news article. 
Moreover, constructive news reporting inspired children to engage with the events reported in the news. Children who read a constructive story came up with more ideas for school projects that could be organized than children who read a non-constructive story.
However, children's intention to engage in the topic, by for example reading more stories about the topic, did not differ between those who read the constructive story compared to those who read the non-constructive story.